Forums
| Acellus Academy
---
30 August 2021, 14:29
Parents may offset tuition expenses for Acellus Academy, by taking advantage of the Roger Billings Scholarship Program. Every student is able to take part in this opportunity.  Students in the scholarship program commit to participate in an online lecture with Roger Billings called Science L!VE that airs every Wednesday at 7pm CT. Science L!VE is an hour-long lecture series that features fun and interesting discussion between Roger Billings and other Acellus instructors. This lecture intends to promote a deep love for science while encouraging students to study hard.  
Students enrolled in the Roger Billings Scholarship Program will receive the same schooling experience as students who pay full tuition. All your student needs to do in order to register is apply for the scholarship when enrolling in Acellus Academy. 
To view these lectures, students can find the livestream by logging into the Acellus student interface: 
Once your student is logged into the Acellus app, you can find the 'Science L!VE' tab at the top;
You can also find the site using this direct link science.edu/live
If a student enrolled into the scholarship misses the live broadcast, the lecture can be viewed later in the week under the previous forums tab. 
To verify that your student had watched the lecture, students can sign in and post a comment to ensure that they participated.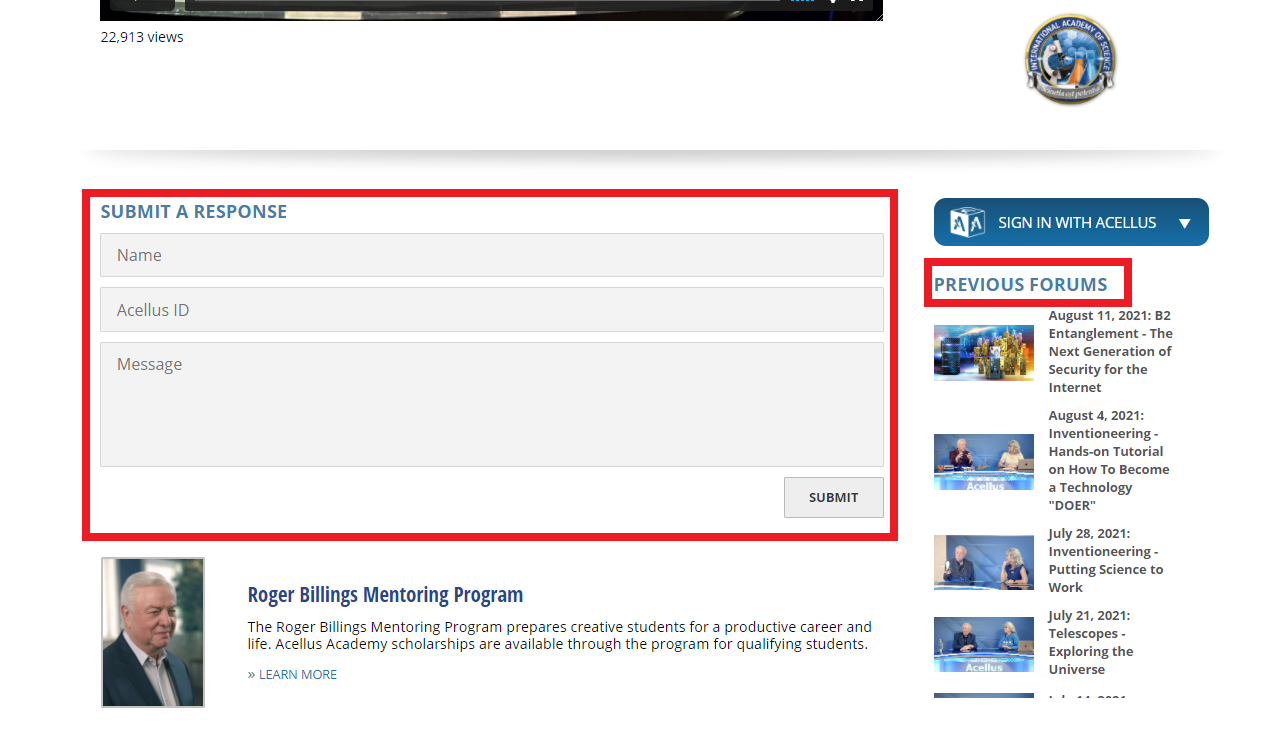 09 September 2021, 0:33
Hi, I am new to Acellus and my 1st grader is enrolled in the Roger Billings  Scholarship program. Do she suppose to attend the weekly lectures? If so how do mark us as attending so it doesn't jeopardize us being removed from the program. 
09 September 2021, 9:52
Students will need to attend the weekly lectures each week.
The weekly lectures are live Wednesday nights at 7:00 pm CST. 
Students can watch online and should submit comments or questions on the response form below the video feed. Be sure to have them include their Acellus ID to verify the account.
17 September 2021, 8:43
My Daughter attends Religious training every Wednesday evening. If she views the lecture using the previous forums tab will she still receive credit toward the Scholarship Program. Please clarify any additional steps required for this. 
Thank-You!
17 September 2021, 15:55
We strongly encourage students to participate live because it allows them to be more involved. However, we are able to make an exception for students who have a schedule conflict or time difference and are not able to attend the lecture during the live broadcast. The lecture will be posted online after the live stream. Students should submit comments or questions on the response form below the video feed. https://www.science.edu/live