Forums
| Acellus Academy
---
10 November 2021, 11:32
Hello,
My daughter and myself are new to acellus this year (6th grade)! I have been wanting to review with her at the end of the day and cover and missed questions. My issue is when i log in and review her work, it only tells me what her answer is and not the correct answer(screenshot included) anyone know how to figure this out?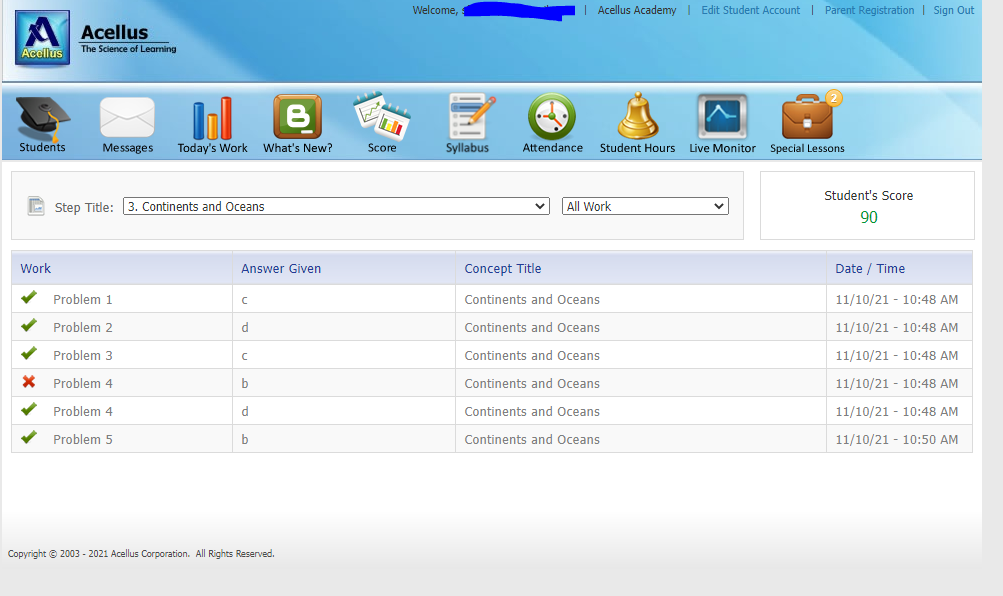 10 November 2021, 13:05
To protect the integrity of our assignments and exams, we cannot publish the answer keys to the online coursework. However, we log all of your student's work and the answers entered by your student into the program. This information is available to be viewed by you as the parent through the parent interface.  
When your student struggles with any specific concepts, Acellus will provide extra help and resources until the student has mastered the material and is ready to move on. 
20 November 2021, 9:00
No, no Skyler. Actually, it does tell you what your child answered.
Look at Problem 4 there. I can she that picked B the first time. Whoops. Wrong. Big Red X.
Now, look right below that. It's Problem Four again. After getting it wrong, she immediatly got a chance to re-select, she picked D the second time, got it correct. So, the answer to Problem Four is D and she got half credit for her second guess. That's why the score is 90 on the quiz rather 80, which she would have gotten if she had skipped the question.
Also, go ahead and click on either "work" or "answer given" and you can see the exact question asked for any questions, the ones she got right as well as the ones she got wrong. There's pretty much no difference for a multiple choice quiz about Continents and Oceans, both buttons are pretty much the same. Now, if it were about Javascript, well there'd a huge difference between the two buttons: the problem needing solving is on one, while the code entered is on the other.
22 November 2021, 8:38
That is correct! As the answer keys for assignments and exams are not published, parents are still able to view the answer that their students entered as well as the problem itself. Parents can do this by selecting the problem under the "Score" tab.